The History of Solstice

We've had 23 years of great live local music, awesome friends, and all for an important cause.

There's been a lot of web site and tee shirt designs, incredible volunteers, cool musicians donating their time, porta-potties, moon-bounces, Frank's pig roasts, and very generous sponsors.

Friends have travelled from across the country to reunite. And there's nothing more fun than running into someone you don't know wearing a Solstice shirt.

In the beginning...

After Buzz and I graduated college and got married, we missed our college friends, and friends from growing up, and decided to throw a party. We were living at her recently deceased grandfather's house. We probably shouldn't have dug up the yard for the slip-and-slide, but it was such a great time I decided to have a monthly gig. Buzz vetoed that concept and agreed to an annual reunion.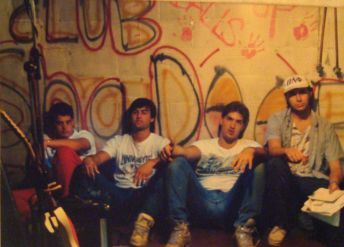 We moved out to Chester County and started throwing the party in our backyard. The neighbors loved it. I met a dude named Steve Liberace, who was playing a solo gig at a upscale/swanky establishment in West Chester called Jitters. He played some Stones covers and naturally I told him about the gig we were having in a couple of weeks. He played solo that year and the following couple of years he brought his band, Lunch Box Heroes. Next thing I know we're building a stage in the yard. Buzz loved that.
We eventually outgrew the yard. For the past few years, we've had Solstice at a beautiful farm, with an incredible amphitheater, outside of West Chester... in a small village near Bendertown.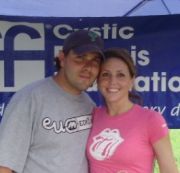 Our friend Jen has Cystic Fibrosis and she works tirelessly to raise money to help find a cure. We decided that we should try to do some good with Solstice. With the help of the volunteers, musicians, sponsors, and friends, we have raised a few thousand dollars over the past couple of years.
Sorry in advance for rambling.
The first concert I ever went to was held 4 houses down the street from my house in the coolest town around, Broomall. I was in 7th grade and this guy Stan who was just a year older threw this huge concert in his little back yard. It spilled out onto the school yard behind his house. He built a big stage with lights and everyone from the neighborhood was there. Some kids were probably watching the guitarist's solo thinking they wanted to do that some day. I was watching Stan, trying to figure out how he put this all together, and vowed to marry beautiful woman that would allow me to build a stage (and a bar) in my yard. That all being said, I'm a big fan of guys like Muddy, Jimi, Robert Johnson, the Glimmer Twins, the Dead, etc. But I'm also a fan of Bill Graham, Michael Lang, Tim Walther, Steve Wozniak, and Bob Geldoff.
After a few years of trashing the yard and house, we moved Solstice to the lovely Myrick Farm, which is managed by the Brandywine Valley Association (a great organization that protects the watershed in the Brandywine Valley.
Over the years we added some great sponsors to help raise funds to find a cure for CF. Special thanks to Pfizer, New Day Underwriting, Fresh Start LLC, Marshallton Group, Cornerstone Pizza, Willowdale Sunoco, and many others.
Here's to the next 24. Shadoobie.